Hi Friends!
Remember that perfectly scripted interview exchange between Miss Rhode Island and pageant MC William Shatner in the flick Miss Congeniality? Shatner asks Rhode Island to describe the perfect date. He was of course referring to a romantic date, but her reply of, "That's a tough one. I'd have to say April 25th. Because it's not too hot, not too cold, all you need is a light jacket" was kinda like, really funny. It also gives me the perfect (and timely) opportunity to share with you, my fellow 10 readers, this new blog post.
But really Shatner, what is the perfect (romantic) date? Is there such a thing? I think we've all been on some really really amazing dates, but perfect? That's like, an intense word that comes with a whole lotta pressure. It's all relative, anyhow. A perfect date to me would be something totally different to let's say, Irina. That's a fact.
Of course, there's always Hollywood to show us that the dates us normal's go on could either be way worse or way better. So…The following is a list of fictional dates that remind us all of just that.
Enjoy!
---
Knocked Up
Sooo technically not a date, more like a drunk one night stand. Either way, not an ideal situation for all parties involved. But could and definitely does happen. Real.
---
Along Came Polly
The moment you pray to the toilet Gods to please flush. You swear you'll be a better person. You'll donate to charity and volunteer at the food pantry. Clogging your dates toilet after a night of spicy Indian food? Literally my worst nightmare and I'm just gonna assume everyone else's. Real.
---
Clueless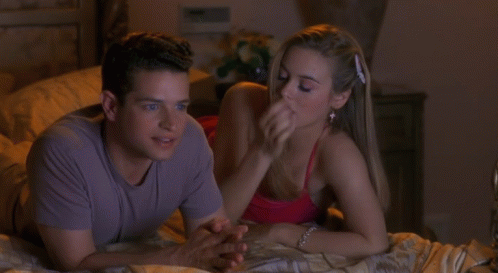 When you're in High School and you have a major crush on a boy and you do everything to seduce him but he rejects all your advances. Traumatic. At least Cher didn't stumble upon some bad lighting, Christian just had a thing for Tony Curtis. Sorta real, sorta fake.
---
The Girl Next Door

I can say with much certainty that had a crush of mine taken me to a kegger in the 11th grade and passionately kissed me in front of every jock and cool kid, my life would be totally different today. I'd be married and the mother of his six children. I'd also be a retired porn star had it happened exactly like in the movie, but that's besides the point. I mean, what dumb young boy wouldn't overlook all the STD risks and traumatic emotional damage caused by the porn industry to be with the girl next door? Fake.
---
(500) Days Of Summer
Pretty much everything about this movie is realistic, including this IKEA date. It's all too real. The excitement. The play-pretend-house in the displays. It's the perfect place to tell your date you don't want anything serious and the perfect place to lie and say neither do you. All the while enjoying a plate of Swedish meatballs. Real.
---
Lost In Translation
Love love love this movie, still not entirely sure if this night between Murray and Johansson is actually a date or rather two lost, lonely people enjoying each other's company. Let's not dwell because regardless, spending a bomb ass night like this one in Tokyo is the definition of pure perfection. Redic.
---
50 Shades Of Grey

Ugh. Obvs a book first, which in my opinion should be found in the Sci-Fi section instead of Fiction because all of it is so completely unattainable. Think about an impressionable woman (or man) searching for a Christian Grey. To not just be swept off her feet but swept off the ground in a privately owned Helicopter. Unless you're Beyoncé and you hit it right, she might take you for a flight on her chopper. Fake.
---
10 Things I Hate About You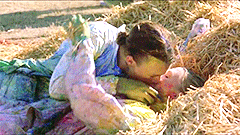 First of all, did anyone go to high school with a teenage boy with a full blown man bun? I certainly did not. Second of all, this would be like really fun. It just all seems a little too adult-like. Honestly, if a boy took me to T.G.I.Fridays for a date I was thrilled. We weren't rolling round in the hay covered in paint. I was clutching my coach purse, picking at a salad even though I was starving and dying for a plate of potato skins. Fake.
---
Blue Crush
Okay let's break this one down. Not only are you out on a first date with a perfectly beautiful, Tom Brady look alike NFL quarterback, you also look drop dead gorgeous while hangin' with the team at a Hawaiian luau. But you live in a shack on the beach so really, it's like nbd. Especially when you dive fully clothed into the ocean as said Tom Brady lookalike follows and the two of you have a deep, emotional conversation. Really, nbd. Fake.
---
Fear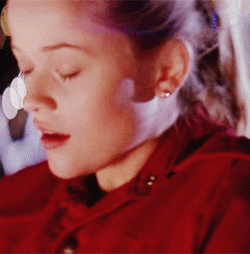 With a title like Fear, it's pretty ironic that the most memorable scene for me is the roller coaster ride. I guess this can and might happen? But gross because there's zero chance the Carnies disinfect those seats. Like ever. Personally, I am a sucker for a carnival and Mark Wahlberg but let's be honest, Reese totally faked it. Redic.
---
Dating in the real world can be lots of things. It can be tricky, it can be silly, it can be awful and it can be fun as hell. I'm usually not a gambling kind of gal but it certainly adds to the excitement, not knowing what you're gonna get. Also the anxiety, but I'm trying to keep it positive. And hey, at least we don't have to worry about Seth Rogen impregnating us!
Until Next Time!
XO Lauren