Hi Friends!
This is an extra special and extra exciting post today. For those who don't know, this blog began and functions today, because of Irina Victoria Jewelry. Back in the beginning of 2015, Irina and I were sitting at her kitchen table when I mentioned, very nonchalantly that I would love to start a blog. I went home, went to sleep, woke up, and found that naturally, Irina had provided me with the space to do just that. She's cool because she knows me. She knows I need that friendly but slightly aggressive nudge to get things going. That day, The Ivy Branch was born. Little by little I've felt more comfortable being creative and expressive. It's kind of become this little baby that I'm trying to make better everyday.
That's why I'm so happy to dedicate today's post to Irina's baby, her brand spankin' new Revival Collection. I've witnessed- and at some points been heavily involved in –  the entire creative process from beginning to end. It's crazy. It's fun. It's exhausting.
The behind-the-scenes stuff, the stuff the consumers and readers rarely get to witness, is neatly laid out for you below. You think you know – but you have no idea. This is the making of the Revival Collection. 
Disclaimer: The following is no bullshit. Nothing is like made up to sound better or more difficult. It's legit. It's our process, it's our inspiration. It's something we're proud of. Enjoy!
---
The Creative Process In Emotional Stages // Irina
This is going to be awesome.
The idea for a mixed metal collection actually came about in early 2015. I was so excited and even posted on Instagram about it (!), but struggled to find the inspiration to design the entire collection.
This is hard.
Managing your creativity is tough. It doesn't matter how much you love the idea or the level of connection you feel to it, dedicating the time and energy needed to fully follow through is difficult.
This is terrible/I am terrible.
Between wedding planning, the AXIS trade show we attended in September 2015, the holidays and everything else the new collection never happened because, simply put, I didn't want to half ass it.
Hey, not bad.
It doesn't stop consuming your thoughts though. Design ideas were on my mind every.day. since the start because I absolutely loved the idea of creating an edgier, mixed metal collection. Thanks to social media it's become very apparent that all women, not just trendsetters, are starting to come to their senses about bullshit fashion rules; realizing that fashion is a personal expression and you should mix and match as you please and really just have fun. The forbidden pairing of gold and silver has been abolished for many and I'm really happy about it!
This is awesome.
The Revival Collection is an edgier expression of feelings that have always been part of IVJ – just never fully shown. The design aesthetic came from- what else- my scientific and mathematical side. I have a serious problem with symmetry and geometry. I just effin' love the way it looks and the balance brings me calm.
….or maybe it's subliminal messages of pizza 🙂
---
The Design Process In Hours, Like, Literally // Irina
The Magic Hour.
The process begins with dreaming up designs. When does that happen for me? Creativity strikes at night. During a magical hour when I'm tucked into bed, but not quite asleep yet.
The Inspo Hour.
The next day those ideas become a few sketches and then those sketches lay around for weeks while I mull it over. After way over-thinking and then inevitability becoming so overwhelmed by a different task and completely forgetting about the designs, I find my way back to sketching. I'm re-inspired and start digging deep to sketch every single piece in the collection.
The IRL Hour.
A very important step!! I produce one or two of my favorite and/or most practical pieces as prototypes to figure out how difficult handcrafting will be. Then I'll wear the pieces to get a sense of the fit and feel… two very different things! The fit is, uh, how it fits and the feel is how it makes ME feel- happy? pretty? meh? You get the idea. This is when major changes happen because a piece was "too small", "too big", "will get caught on something", "not comfortable enough", "actually kind of ugly", etc.
 The Deets Hour.
A detail-oriented person's dream! ha, jk.  This sucks even for me, but must be done! I determine the correct sizing for each itty bitty part of every piece and confirm techniques for production (it's all handmade people!). Then I make one sample of each piece in the collection.
The Final Hour.
The home stretch! Photography, editing, name the collection, name each design, come up with the story behind each design, put them on the website, handle stupid computer problems, and FINALLY share them with the world!
…Then realize you've made a big mistake. Big. HUGE on the website but "FUCK!! It's already live." low key fix it before anyone notices.
---
  

The Inspiration // Lauren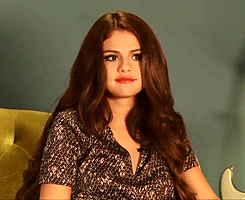 As you may or may not remember, both Irina and I are fans of Selena's last album, Revival. Call us geeks, call us teeny-boppers, call us losers. It is what it is. Now, that being said, although the collection is in fact called Revival, we didn't name the collection directly because of the Selenator. More like, indirectly. Around the same time we had the album on repeat, the collection really started to come together.
The definition of revival, according to Webster is the growth of something or an increase in the activity of something after a long period of no growth or activity.  Have you ever felt stuck? Have you ever started something that you felt so passionate about and then life happens and all those creative juices are squeezed out? That's how we felt as a brand for awhile. Thankfully, we are out of the slump with the help of this new collection.
A huge part of our design process is one of the final stages – providing names and descriptions of the pieces. We put a TON of time and effort into this stage. Both of us lose sleep over it. True story. It means a lot to us and we never want to stray away from being our true authentic selves. After all, authenticity is one of our major core values and you know how close we keep our core values.
---
Revival is the name and mixed metal is the game. We chose to name each piece after a well-known, kick-ass, fact or fiction female. We thought, let's pay homage to these women who inspire the rest of us to be strong, to be better, to be a bit more brave. Struck by the pieces mix of femininity and edge, we took a look at each piece and the names just sort of came to us. Some were easier than others but for the most part we knew exactly whose piece belonged to who. We really hope you obvs love the collection, but we also hope you can see how our brains landed on each name.
Like Irina said above, in the past mixing gold and silver would put you on the fast track to fashion hell. Not today satan, not today.
So….Drum roll please….
The Aurora
Known as the Roman Goddess of Dawn, this piece represents renewal. Put this necklace on and start the day off right!
---
The Cleopatra
It just feels right naming this statement choker after the powerful, strong Egyptian Queen.
---
The Khaleesi
Beautiful, calculated and the Mother of Dragons. Three to be exact. Don't be fooled by her dainty stature. Wearing this neckalce will summon your inner Khaleesi, for sure!
---
She's smart but sometimes foolish. She's always chic but sometimes unorthodox. She's a little of this and a little of that. The perfect mix, just like the necklace named after her.
---
We couldn't help but name our ear crawler after the ultimate heroine, Joan of Arc. Her armor and shield protected her but her heroism is what's remembered.
---
Regarded as the Queen of Jazz, the purity of her voice and legacy of Ella Fitzgerald is unparalleled.  All we can say is – at last, these studs have come along.
---
While holding true to our feminine design form, there's something a bit sinister to the ear jacket. An edge, if you will. But fear not, the only curse that will come with these is to yourself for not buying!
---
Her life may have been small in years but her impact on the world will last forever. Classic, understated and elegant, these studs make a beautiful statement – just like the Princess.
---
Her impact on the world and fashion was evident by the scores of people who adored Diana. Let this mixed metal version of the Diana studs act as an expression of her individuality.
---
Funny lady Lucille Ball may be known for her goofy, larger-than-life comedic antics – but she's no joke and neither are these over-sized studs! We promise you will Love These Lucy's. 
---
Lucille said it herself, "I'm not funny. What I am is brave."  Let's be honest, she was both. It takes a gutsy chick to wear these mixed metal statement studs so embrace it, cause we're behind you 100%.
---
Her love for Romeo may have been forbidden, but that didn't stop Juliet from falling madly in love with him. Add some drama (without the tragedy) to your hand with this romantic ring.
---
A simple piece which holds all the collection in it's design. She is the ultimate creation and just as Eve shared the apple with Adam, we share this ring with you!
---
"I am my own muse. I am the subject I know best. The subject I want to better." Kahlo painted what she knew, which was herself. Find your muse and let this bracelet channel the inspiration.
---
Our Theory of Radioactivity? That Marie Curie was the bomb (pun intended). An accomplished scientist, professor and twice Nobel Prize winner, we simply had to pay homage to her. Feel like a true girl boss with this around your wrist!
---
Wow, you made it! We know this was a long ass blog post and we really appreciate and love you for sticking with us! Wait, should you be working right now? It's fine, don't even worry about it.
Honestly, it's a little overwhelming for us to read all the work we put into Revival.
So…..because you're amazing and obviously know a good read when you see one…..
---
USE PROMO CODE: BLOG10 
This promo code isn't shared anywhere else! Good through July 1, 2016.
---
Thank you, Thank you, Thank you for reading all about our jewelry babies!
xo Lauren + Irina (mic drop)