Nuh uh.
A wise woman once told me that if People magazine hasn't reported it- it simply can't be confirmed. I guess because when it comes to celeb tabloids, People is held to the highest standards.
ANYWAYS: People magazine confirms Angelina Jolie has filed for divorce from Brad Pitt. Holy fucking shit.
Not much else has been released other than Ange cited irreconcilable differences (boring) for reason for split.
Okay, permission to be SUPER petty right now? (Aside from the pettiness of this entire post) my guess is this is what Jen is doing right about now: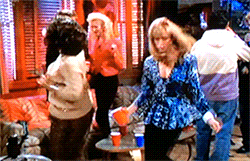 Idk why this is making me feel so many feels, they are I mean were a Hollywood couple after all. But like, so many kids and self righteous this-is-how-we-make-it-work- interviews later, how can Brangelina not reconcile their differences? Stay tuned for the inevitable "We continue to love and support each other" diplomatic camp statements.
ttyl! Lauren