Hi Friends!
So. I'm sure by now you're aware that March is Women's History Month. And even though it's crazy important to remember and celebrate all the women pioneers and trailblazers that came before us – Irina and I wanted to take a different approach via this blog. Instead of publishing a handful of posts listing facts and celebrating our fav women (what up Ruth Bader Ginsburg and Angela Davis!) we decided to share with you, our followers, how we do little things to celebrate ourselves. Because you know what? We're crazy important. Each and every one of us.
Our hope is for you to read these blog posts and realize how important it is to take care of yourself (in case you didn't already) and that even though it can seem overwhelming and insignificant – it's not. Also I mean it when I say, if I can do it, literally anyone can because I am the worst self motivator that ever lived. 
So. The following is one way I take care of myself everyday, allowing me to put my best face forward.  Enjoy!
Fact: I just turned 30 years old and am constantly reminding myself that although it looks like everyone my age has their life together via social media, everyone does not. The thing is, I'm a really good adult in some ways and a really bad adult in other ways. Like for example, it wasn't until my late twenties that my skin decided it was time to remind me who's boss and break the fuck out.

As women I think it's really easy for us to make excuses or even flat out forget to take care of ourselves. As a teen I rarely took care of my skin, probably resulting in my adult acne. Awesome.
I finally decided that in order for me to fully embrace adulthood, it was time for me to buckle down and get serious about skincare. That's when I stumbled upon a magazine article about a 10 step Korean skincare routine – and I've never looked back. I know what you're thinking – this girl went from zero to 100 fuckin' real quick. And you're right! The truth is, what I read made sense and when I started to see the positive results I found myself actually looking forward to my nightly skincare routine. Adulthood. Boom.
Below is an honest outline of the steps I follow, products I use, what the experts say and what I've concluded.
P.S. I frequent CVS, Ulta and am a Birchbox subscriber so the products listed are linked to where I found them, but I'm confident they can be found very easily anywhere. 
P.P.S. The expert I reference is Charlotte Cho, a board certified esthetician behind Soko Glam and author of The Little Book of Skin Care. 
---
Step 1.
Oil Cleanser
What I Use. Julep Cleansing Oil
My Rundown: Not only was this very first step completely foreign to me, the product itself was too. They want me to willingly rub oil on my face?! It's totally okay though – just like avocados and the good kind of fat, cleansing oil is the good kind of oil. Also, don't be paranoid about not washing all of it off – that's what step 2 is for!
---
Step 2.
Foam Cleanser
What I Use: Goodal Phytowash Yerba Cleansing Foam
Expert Rundown:
 The double cleanse method is built on the philosophy that the skin should be respected and handled with care. Therefore, each step is done very gently without rubbing or tugging. And because every rub is so gentle, it can take two steps and two types of cleansers to get the job done.
My Rundown: Because it's a Korean skincare routine, I try and use Korean products when I can. Meaning the price is right and I little time and energy is involved in finding them. I totally lucked out with this gentle foam cleanser.    
---
Step 3.
Exfoliate
What I Use: Dr. Brandt microdermabrasion
Expert Rundown:
Exfoliating is crucial for a polished complexion. Sloughing off dead skin cells and debris makes it a breeze for the rest of your skin care products to mingle with your pores and really get down to business. Up to twice a week, gently massage or tap in an exfoliant into skin for your smoothest and softest-feeling skin.
My Rundown: It's not rough on the face, the exfoliate is super-duper fine and also smells  incredible. My face feels crazy soft and I've never broken out in hives after, which is like a plus.
---
Step 4.
Tone
What I Use: Neutrogena Pore Refining Toner
Expert Rundown: 
Toner helps balance your skin's pH levels and preps your skin with a bit of hydration to better absorb your following skin care treatments. Think about your skin like a sponge—it's more difficult to re-hydrate it when it's dried up and hardened than when it's already a bit damp.
My Rundown: Because I'm obsessed with CVS Extra Bucks and got this years ago for like $1.00 while using them. When I find something that works well for my skin and I stick with it. ALSO who the fuck knew that this was the purpose of toner? I always used it as a final step – oops!
---
Step 5.
Essence
What I Use: H2O+ Infinity + Refining Essence
Expert Rundown:
You can consider essence the heart of a Korean skin care routine. A bit dual purpose, essence is a kind of toner and serum hybrid made for hydrating and aiding skin repair and cell turnover. You apply it directly to freshly toned skin with your hands and pat it in.
My Rundown: Again, a step and product completely foreign to me, and I found out I wasn't alone. The Ulta employee looked at me like I had two heads when I asked where I could find it. But now? Essence is a step i can't wait to reach. I can't explain it – it's kinda a serum but kinda not. I've even noticed it's helped with my stubborn dark spots!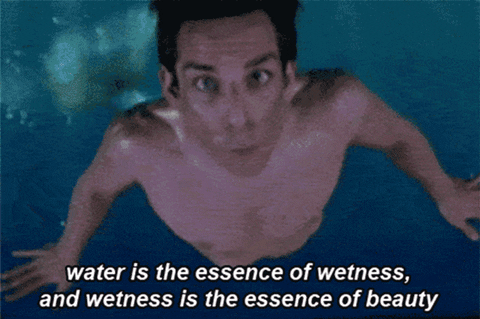 ---
Step 6.
Serum
What I Use: Estee Lauder Advanced Night Repair
Expert Rundown:
These products can address any issue including brightening, pore-refining, pigmentation, wrinkles, acne—this is your skin-perfecting step.
My Rundown: Ya know all the travel size products Ulta has in front of the registers? Rather than buying the 1.7oz for $92.00 (ya, seriously) I opted for the .24oz for $12.00. That being said…this is defs a superior product – and I'm sure would be well worth the money…if I had that kind of money.
---
Step 7.
Sheet Mask
What I Use: Yesto / Leaders / Dr.Jart+
Expert Rundown:
If essence is the heart of a Korean skin care routine, the sheet mask is its soul. It's a quiet meditative, skin-nourishing ritual that imparts maximum treatment into your skin while you chill out for 15-20 minutes.
 My Rundown: So this is a step that can be substituted in or out with step 6. Honestly though, I really love both steps and try to do both every night. I've seen positive results from step 6 and the serums I use and (sounds cheesy) but i look forward to chilling out with a sheet mask every night.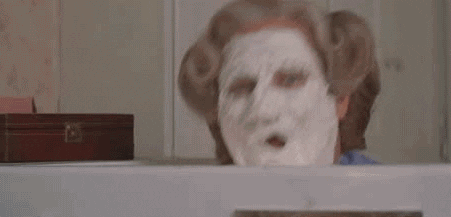 ---
Step 8.
Eye Cream
What I Use (kinda): Balance Me Wonder Eye Cream
Expert Rundown: 
The skin around your eyes is the most delicate skin on your face and should be treated like the fragile flower that it is, with extra helpings of hydration and protection. Use your ring finger to very gently tap—never rub—eye cream around the entire orbital bone, avoiding the water line.
My Rundown: Okay, truth? I don't always perform this step. More truth? It's because I had a small sample of this from my Birchbox and I ran out. Have you ever checked prices on eye creams?! Instead, I'll use these under eye tissue masks, which are like $1.50 at CVS.
---
Step 9.
Night Cream
What I Use: Julep Night Shift Sleeping Mask
My Rundown: A self explanatory step that should be included in all skincare routines. I love love love this product. I found it in the travel size section at Ulta! Not only does it smell delish – I wake up in the a.m. and wonder if my eyes are playing tricks on me – because my face looks and feels ah-mazing.
---
Step 10.
SPF

What I Use: Dr.Jart+ Every Sun Day
 Expert Rundown: 
We're pretty obsessed about SPF. It seems self-explanatory, but we can never stress enough how important sun protection is on a daily basis. It's applying SPF regularly that's the biggest differentiation in the Korean regimen.
My Rundown: SPF has barely been applied to my skin at the beach, let alone on a cloudy winter day. I know, I know that's like really bad, but hey that's why I'm doing all this! Bottom line is that this is extremely important to the routine and therefore it's important to use.
---
So there you have it. Now, along with nail-biting, I can cross off taking care of my skin. All that's left is: get married, have babies, buy a house, have grandchildren and not be so hard on myself. At least I have manicured nails and an even skin tone.
Don't forget to stay tuned for Irina's post on how she takes care next week!
Until Next Time!
xo Lauren