Hi Friends!
Have you been hearing a lot about Gal Gadot lately but feel like you don't know a ton about her? Because same. I mean,  I obvs know she's Wonder Woman and I know she's Israeli but like, that's about it. So if you feel the same way and want to know more about Gal Gadot–you should totes keep reading and learn what I learned. Spoiler alert: she's pretty amazing.
Enjoy!
---
Gal was born in Israel on April 30, 1985.
And in Hebrew her name means 'waves'
---
At age 18, Gal was crowned Miss Israel and went on to compete in the Miss Universe Pageant.
And she lost to this girl.
---
For two years Gal served in the Israeli Defense Forces as a Combat Trainer.
And she believes this was the main reason she landed a role in The Fast & The Furious because of her knowledge of weapons.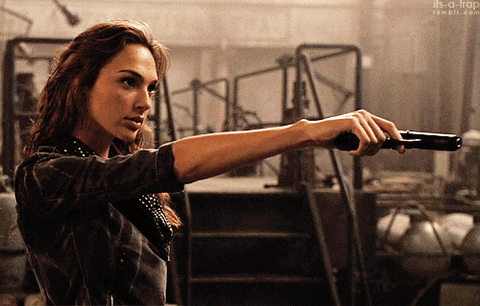 ---
She studied law at college in Israel.
And says she would have likely become a lawyer had it not been for her persistent casting agent. 
---
She's also a model.
And in 2012 was ranked 5th on Shalom Life's list of "the 50 most talented, intelligent, funny, and gorgeous Jewish women in the world." Who was no. 1?
Ha! Just kidding. It was her 🙄:
---
She's the first non American to play Wonder Woman. 
And we're like…American or not (because who actually cares) we want all Gal all the time.  
---
She loves motorcycles. 
And owns a 2006 Ducati Monster. 
---
She married Israeli real estate developer Yaron Versano in 2008

And he seems pretty supportive.
---
She was five months pregnant with her second child while filming re-shoots of Wonder Woman. 
And that's a real life Wonder Woman. 
---
Beyoncé is semi responsible for her landing Wonder Woman. Because obviously. Gal admits to having anxiety while waiting for her turn to audition so she turned on Run The World to dance her anxiety away. 
And Gal proceeded to show them who run this mutha. 
---
Until Next Time!
xo Lauren